The scandal-hit NHS Trust, Southern Health, has been rated 'Good' overall in the latest inspection by the Care Quality Commission, for being safe, caring, responsive to people's needs and well-led.
Previously the trust was rated overall as 'Requires Improvement'. It still 'Requires Improvement' for being effective.
Two years ago, the Trust was fined £2 million for failing to prevent the deaths of two patients.
Since 2013, the Trust has faced a string of damning reports into its leadership and patient safety.
CQC visited the trust in October 2019 to check the quality of four core services – acute wards for adults of working age and psychiatric intensive care units (PICU's), child and adolescent mental health wards, wards for older people with mental health problems and mental health crisis services and health-based places of safety. CQC also looked specifically at management and leadership to answer the key question: Is the trust well led?
Dr Kevin Cleary, CQC's Deputy Chief Inspector of Hospitals, said:
"At Southern Health NHS Foundation Trust our inspectors found a really strong patient-centred culture with staff committed to keeping their people safe and encouraging them to be independent. Patients' needs came first, and staff worked hard to deliver the best possible care with compassion and respect.
"Inspectors saw many areas of good practice, with care delivered by compassionate and knowledgeable staff. Several teams led by example with a continuous focus on quality improvement.
"The trust did face some challenges and there are still some areas of improvement required but there has been a significant improvement in the services at this trust. Staff, patients and the leadership team should be proud of the work done so far. We will continue to monitor the trust and our inspectors will look to return to check on its progress."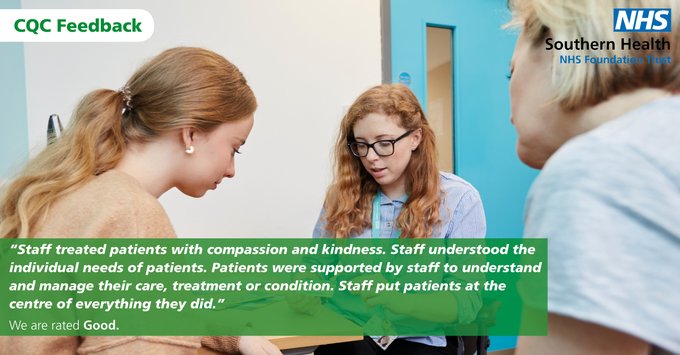 The board had taken significant steps to improve the culture across the trust and staff felt valued. There was a real focus on doing what was best for people, both staff, patients and carers with a real commitment to the delivery of good quality patient care at every level. Staff at all levels of the trust were proud to work there and morale amongst staff was good.
The board had engaged with several families who had not received the appropriate level of care and investigation into their loved one's deaths, or they had poor experience of care (under a previous leadership). Each family worked with a senior member of staff their choosing in a partnership arrangement. The Trust partners included a member of the executive team and a deputy director of nursing as well as both medical and clinical directors. In late 2018 the trust sought the support of NHS Improvement to help address the outstanding concerns of the families which then commissioned an independent review undertaken by an experienced barrister.
In acute wards for adults of working age and psychiatric intensive care units, staff spoke to patients about their preferred physical interventions if it became a restraint situation. Staff made every effort not to use restraint, if they did, it was as a last resort.
Staff also made sure patients had access to opportunities outside of the service. They did this through activity and signposting to job or volunteer opportunities.
Inspectors found mental health crisis services and health-based places of safety provided safe care. Clinical premises where patients were seen were safe and clean. The number of patients on staff caseloads was not too high to prevent staff from giving each patient the time they needed. Staff managed team caseloads well to ensure that patients who required urgent care were seen promptly.

There was no assurance that the trust was meeting its legal obligation to ensure people did not stay in the health-based places of safety for longer than 24 hours, or that they had an extension granted by an approved person. This was because staff were not completing the required hourly checks. There were no systems in place to ensure staff entered correct entry times or completed the hourly checks. This was required to ensure staff would escalate appropriately so action could be taken if people had been in the health-based places of safety nearing the 24-hour period.
In wards for older people with mental health problems staff treated patients with compassion and kindness. They respected patients' privacy and dignity and understood the individual needs of patients. Staff supported patients to understand and manage their care, treatment or condition.
However, leaders of the service had not ensured all the improvements inspectors said it must make following the last inspection had taken place. They had not made sure that female designated lounges were only used by females, that patients could make phone calls in private or that all staff understood their responsibilities under the Mental Capacity Act.
Staff treated young people with compassion and kindness. They respected their privacy and dignity and understood the individual needs of young people. Young people were involved in decisions about the service. They were encouraged and supported to attend the onsite schools and study for qualifications. Staff actively involved young people and families and carers in care decisions. Staff supported young people in their recovery by involving them in care planning and providing them with information and carefully considered discharge plans. Staff also looked after young people's physical health with observations and healthy eating cooking classes.