Clinically extremely vulnerable receive updated guidance in line with new national restrictions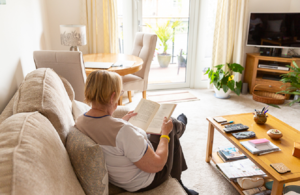 Clinically extremely vulnerable people in England have today received further guidance on keeping safe as the country introduces new national restrictions from Thursday, the government has announced.
The new advice details further precautions those in this group can take on top of the tougher national measures being introduced, as cases continue to rise across the country. Everyone not considered to be clinically extremely vulnerable will be expected to follow the new restrictions, such as staying at home unless shopping for food or exercising and not meeting up with people outside of the household.
Read the details by clicking here or on the image above.
---
The impact of Covid-19 to date on older people's mental and physical health
This report from Age UK highlights how for some older people, staying at home to protect themselves from Covid-19 can lead to other health problems.
For example, the loss of mobility and balance as a result of moving around less, pain from untreated medical conditions and increased loneliness or anxiety.
Click here or on the image above to read the report.
---
Advanced dementia course – A free online event

Come along to an online Advanced dementia course at Winchcombe Place care home.
Join this informative six week online advanced dementia course, developed by Jennifer Hall, Senior Specialist Nurse Practitioner from the Integrated Care Home Team at Berkshire Healthcare Foundation Trust.
Week 1: Becoming a dementia friend
Week 2: Brain and body changes,
Week 3: Communications
Week 4: Sensitivity and the environment
Week 5: Behaviour
Week 6: End of life.
In week one, hear live from Vicki Lambourne, a Care UK Dementia Champion, as she shares insights and guidance to help you understand what it might be like to live with dementia.
An opportunity to share experiences, ask questions and take a virtual tour of Winchcombe Place care home.
Each week thereafter, the course can be completed at your own pace in the comfort of your own home, and Vicki will have follow up calls with you to help with any queries.
Zoom is used, an online meeting space, which is easy to use. Once you have booked your place, Vicki will send you the meeting details and tips for getting most out of attending an online event.
Date: Wednesday 9th September 2020
Time: 6.15pm – 7.15pm
Location: Zoom
Register your interest by emailing vicki.lambourne@careuk.com
---
West Berkshire Social care services are doing everything they can during these challenging times to keep your relatives well in care homes, but there might be things that can be improved. Your feedback helps services spot issues that are affecting the care for your loved ones in care homes. #TellUs 
Contact us: 01635 886210 or contact@healthwatchwestberks.org.uk
---
Click here or the image above to read the updated care home guidance.
---
---
Please click here or the image above to read advice from Berkshire Healthcare Foundation Trust 
---
---
Activities for the Elderly and Vulnerable.
Click here or the image above to download activities to do at home.
---
---

Information on coronavirus, including updates on how you can look after yourself and loved ones from Age UK. Click image above to read more.
---
Information for people affected by dementia
Living with dementia at any time brings everyday challenges for the person and those around them. Coronavirus is making daily life much harder. You may feel anxious, scared or lonely. But you are not alone – help is available.
---