10/09/2021 – CQC rating for maternity services at the John Radcliffe Hospital drops from good to requires improvement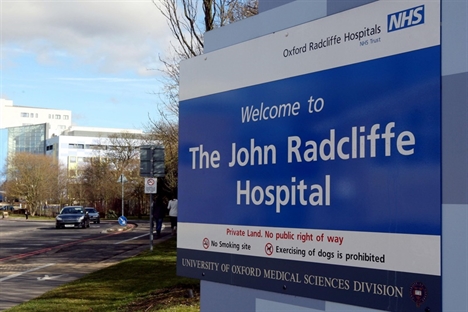 The Care Quality Commission (CQC) has published a report following an inspection of the maternity services at the John Radcliffe Hospital, which is run by Oxford University Hospitals NHS Foundation Trust.
The inspection looked at whether the service was safe, effective and well-led. Afterwards, the rating for maternity services went down from good to requires improvement. This inspection did not change the overall rating for the hospital, which is requires improvement.
Click here or on the image above to read more details.
---
17/02/2021 – Military staff deployed at OUH
Members of the Armed Forces are now supporting our teams here at OUH to help in the response against COVID-19. Initially based at the John Radcliffe Hospital, 42 military personnel from the Ministry of Defence are supporting our staff in both clinical and non-clinical roles:
20 trained Combat Medical Technicians, who in their day job deploy on overseas operations and exercises as medics, are supporting the Cardiac and Thoracic Critical Care Unit (CTCCU) and Emergency Department
16 military staff have joined the Trust in non-patient facing roles – their tasks include stock management and assisting with donning and doffing of PPE, as well as general logistical and administrative work
6 discharge planners are helping our teams to get patients home when they are well enough to be discharged from hospital
Sam Foster, Chief Nursing Officer at OUH, says: "We recently welcomed personnel from the Armed Forces to the John Radcliffe Hospital, and we are incredibly grateful for their support as we continue through what is a very challenging time for the NHS."
The number of military personnel, the jobs they will do, and how long they will be based here at OUH will be kept under review.
The Armed Forces are working in hospitals, vaccine centres, and testing across all four nations of the UK to support the COVID-19 response.
Read more details HERE
---
Helipad relocation at the JR

Work is now underway on a helipad relocation and improvement project at the John Radcliffe Hospital. Our main helipad near the West Wing is moving to a large grass area by the Osler Road entrance to the hospital which is our existing secondary helipad site.
This is a temporary move for two years to ensure the safety of our contractors working on the exterior of the West Wing as part of our cladding replacement work, and to allow us to carry out improvement work to the existing helipad.
We will keep staff based at the JR and people in the local area fully up-to-date and informed.
Exemption stickers now available for patients, carers and visitors who cannot wear face coverings
It is a requirement for all outpatients, carers and visitors to wear face coverings in our hospitals – and inpatients on our wards should also, if they are able to do so – in order to limit the spread of COVID-19 and keep everyone safe.
However, we recognise that not everyone is able to wear a face covering and so we have made exemption stickers available to those people who live with disabilities, hidden or otherwise, which mean they cannot wear a face covering.
These single-use stickers are available at the main reception desks on all four main OUH hospital site. They are for patients, carers and visitors only, not for staff. All staff working on our hospital sites, whether or not they are employed by OUH, must wear face masks (not face coverings) – staff who are unable to do so cannot work on site.
More information is available on their website.
---
16/12/2020 – Christmas 2020 at OUH
This Christmas is a little bit different in our hospitals, due to COVID-19 restrictions, but we are doing everything possible to make it special for our patients and staff – thanks to Oxford Hospitals Charity, Christmas trees are now at the entrances to all our hospitals and the Charity's virtual Give a Gift campaign is enabling people to donate gifts to patients young and old this Christmas.
Our Chaplaincy team have teamed up with Radio Cherwell for their virtual Advent Windows and we are really grateful to Oxford United for their support – they have been encouraging their supporters to get behind their local hospitals.
Oxford Hospitals Charity have recorded a fabulous virtual Charity Christmas Concert with contributions from hospital staff and volunteers – and some famous faces including Stephen Fry, Pam St Clement and Mel Giedroyc – which you can watch online from now until the end of the year.
Thank you to our Charity and everyone else who is going the extra mile to make this Christmas special at OUH.