West Berkshire Diversity Forum for those who have been disproportionately affected by Covid-19.
About this Event
We are hosting our 2nd West Berkshire Diversity forum on Zoom, focusing on
"How Covid-19 has had an effect on you, your family, and community"
This forum enables the community (people of colour) to share their experience during the pandemic so that there is learning from the feedback and how to provide service better in West Berkshire .
The Panel of speakers will be sharing 'How Covid 19 has and will affect the community.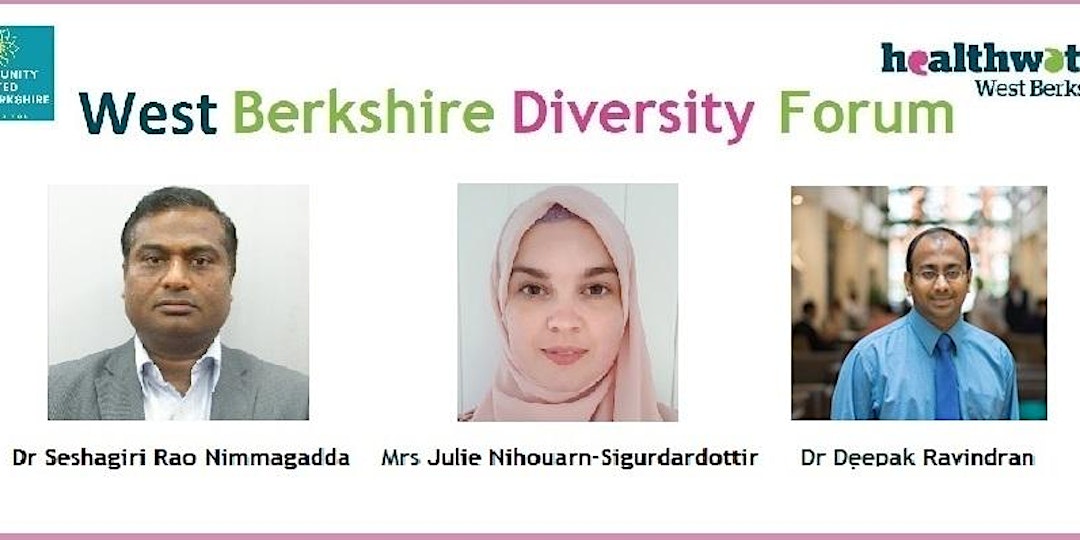 Mrs Julie Sigurdardottir, Doctoral researcher investigating maternal health from King's College, sharing how Covid 19 affected her and her family & community matters.
Dr Deepak Ravindran- Pain Management Consultant from Royal Berkshire Foundation Trust, sharing about the effects of Covid 19 on People of Colour and the myths
Dr Seshagiri Rao Nimmagadda, Consultant Forensic Psychiatrist and Medical Director Thornford Park Hospital, sharing about how Covid 19 can affect your mental wellbeing and the myth.
People of colour are said to be the group that is disproportionately affected by Covid 19 as well as have health inequalities issues. You have an opportunity to ask the panel questions. Tell us your experience living in West Berkshire. Come, hear and be heard especially when we are in the second lockdown. Do not miss this amazing opportunity to be heard.
Read the agenda here
Want to know more about the event? ring 01635 886 210 or email: contact@healthwatchwestberks.org.uk