13/04/2021
England gets third jab as moderna rollout begins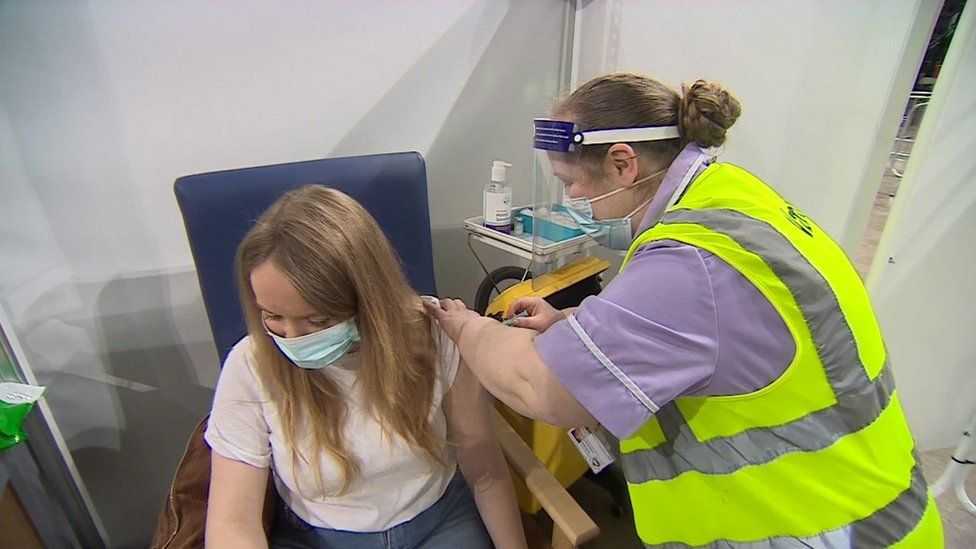 England is giving out its first doses of the Moderna jab, the third Covid-19 vaccine in the nation's rollout.
It will be available at 21 sites, included the Madejski Stadium in Reading.
Along with the Pfizer jab, it offers an alternative to the Oxford-AstraZeneca vaccine for under-30s, after concerns about a possible link to very rare blood clots.
Click here or on the image above to read more details.
---
People 45 or over in England invited to book vaccine
People aged 45 or over in England will now be invited to get a Covid jab, Health Secretary Matt Hancock has said.
The vaccination programme would then move on to everyone aged 40 or over "in line with supplies", he added.
Appointments can be made on the NHS booking website, which temporarily crashed on Tuesday morning when it opened up to the new age group.
Read the details by clicking here or on the image above.
---
07/04/2021
Astra Zeneca Media Briefing
– From 31st March, 20m doses of the Oxford-Astra Zeneca vaccine were given and 79 cases of rare blood clots were reported.
– Slightly higher risk of rare clotting condition in younger people than in older people.
– Under-30s should not be offered Astra Zeneca vaccine, UK government advisers say, they should be offered an alternative to Astra Zeneca jab.
– Astra Zeneca jab benefits still 'favourable for vast majority'
– People who have had Oxford jab should still take second dose
Watch the briefing in full by clicking the video above. Or click here for more details.
---
01/04/2021
Stakeholder Vaccine FAQ, from the Department of Health and Social Care
Click here or the image above to read the details.
---
22/03/2021
Covid vaccine: US trial of AstraZeneca jab confirms safety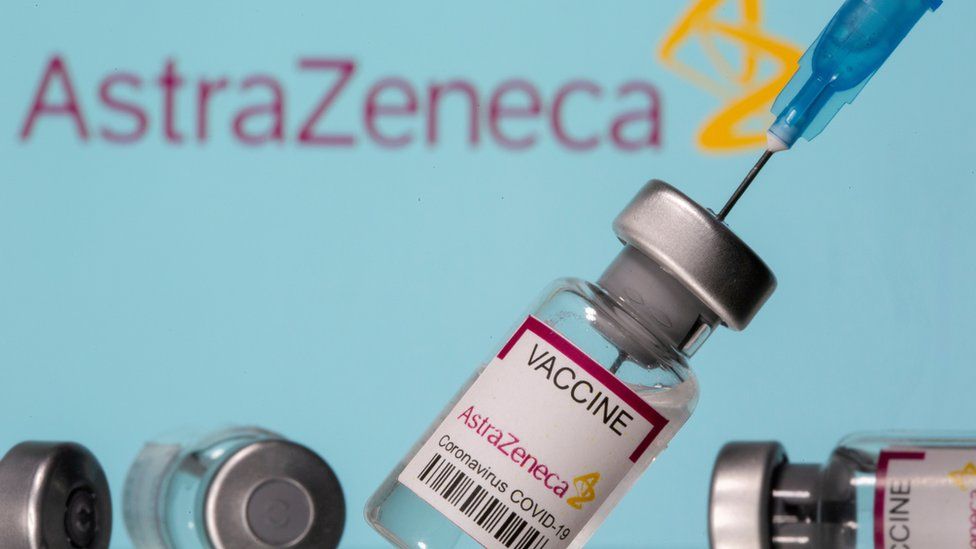 Results from the long-awaited US trial of the Oxford-AstraZeneca Covid vaccine are out and confirm that the shot is both safe and highly effective.
More than 32,000 volunteers took part, mostly in America, but also in Chile and Peru.
The vaccine was 79% effective at stopping symptomatic Covid disease and 100% effective at preventing people from falling seriously ill.
And there were no safety issues regarding blood clots.
Click here or on the image above to read more.
---
18/03/2021
NHS warns of "significant reduction" of vaccines
The NHS has warned of a "significant reduction in the weekly supply" of Covid vaccines in England next month in a letter to local health organisations.
The letter says there has been a "reduction in national inbound vaccines supply" and asks organisations to "ensure no further appointments are uploaded" to booking systems in April.
The health secretary said it was a "standard" letter.
Click HERE or the image above to read the full report.
---
17/03/2021
AstraZeneca vaccine is very safe and causes few serious side effects
Professor Jeremy Brown from Public Health England has spoken up amidst reports of the AstraZeneca Covid-19 vaccine causing blood clots saying. See the image above for details.
---
All over 50's invited for a jab in England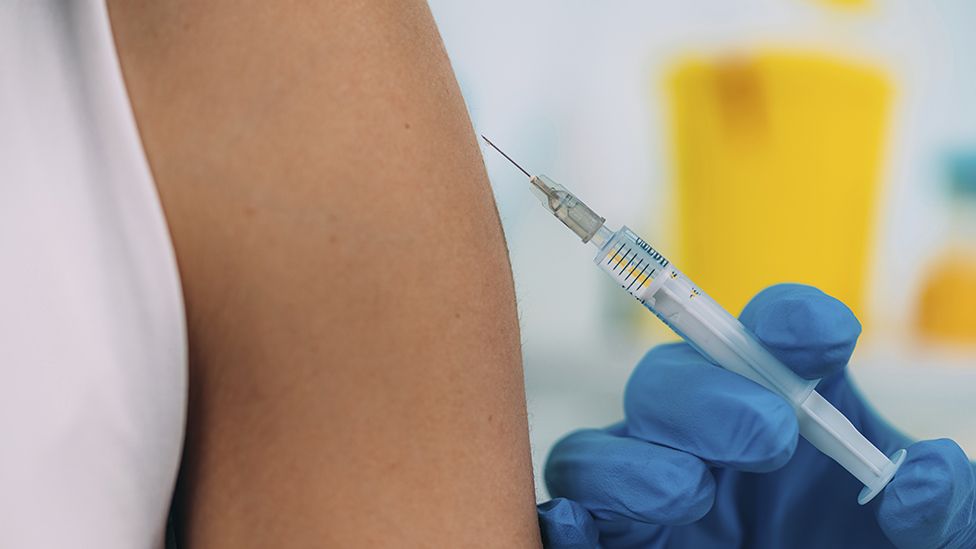 Two million text messages are being sent out to those aged 50-54 in England with a link allowing people to book an appointment through the national booking service website.
People who cannot go online can call the service on 119.
This is the final group on the priority list which covers 99% of those at high risk of dying from Covid-19.
Everyone in the top nine priority groups should be offered a second dose by mid-July, up to 12 weeks after the first.
Nearly half of the UK adult population has had a jab – more than 24 million people.
Around 1.6 million people have also had a second dose.
Health Secretary Matt Hancock said: "I'm determined no-one should miss out on the chance to protect themselves and urge everyone who is eligible to come forward."
Click HERE or on the image above to read further details.
---
Update on new vaccination site at Madejski stadium
Lifelong Reading FC fan Michael Hinton, became the first person to get a Covid jab at the mass vaccination site set up at the Madejski Stadium. Since Michael, 69, and his wife Karen, from Woodley visited the site, the clinicians there have jabbed thousands of other local people in the 65–69 years cohort.
Once people have received an invitation, they can book via the NHS national booking service, either by ringing 119 or visiting the dedicated website here
Earlier eligible groups who have not yet taken up a vaccination offer, can also book an appointment at the centre. This includes those aged 70/80+, as well as front line health and social care workers and those who are clinically extremely vulnerable.
Dr Abid Irfan Chair of Berkshire West CCG said:
"It's great that we have this mass vaccination centre now up and running in Reading. It means we'll be able to deliver the jabs at pace and this will play a critical role in the vaccination programme, which has been working so well across Berkshire West since the first sites came on stream in December.
"The Madejski Vaccination Centre also means our primary care teams will now be able to devote more time to the other healthcare needs of their patients. We've all worked incredibly hard to make sure our surgeries continue to provide the wide range of health and care services people need at the same time as rolling out the vaccination programme."
---
16/03/2021
Covid: UK vaccination surge expected in coming days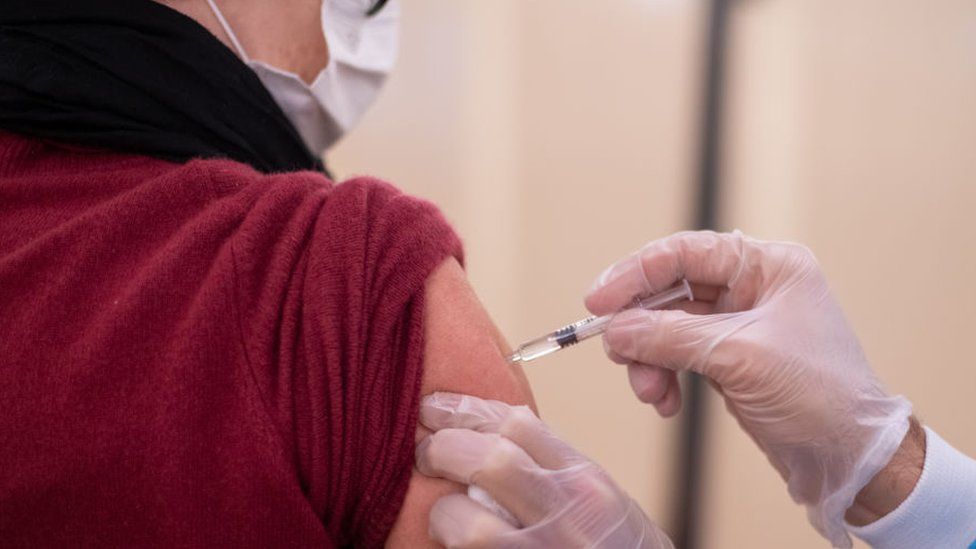 UK experts say there will be a big increase in the number of people being offered Covid vaccinations in the coming days.
The number of shots given is expected to top 4 million this week, nearly double what has been achieved per week recently, NHS sources say.
It should mean all over 50s will have been given at least one dose by the end of the month.
That would put the NHS rollout two weeks ahead of schedule.
Click here or on the image above to read more details.
---
AstraZeneca vaccine: Experts assess blood clot reports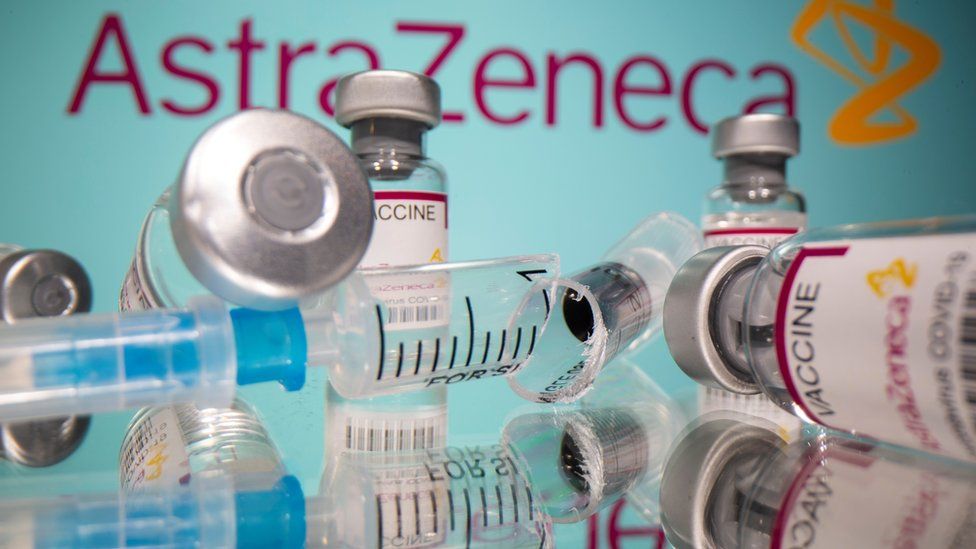 Vaccine safety experts from the World Health Organization (WHO) are meeting today (Tuesday 16th March) to review the Oxford-AstraZeneca jab, after a number of countries paused their rollouts.
Countries including France and Germany said they were acting as a precaution amid reports of blood clots in some recipients in Europe.
The WHO says there is no evidence of a link between clots and vaccines.
It has urged countries not to pause their vaccinations.
The European Medicines Agency (EMA) – the European Union's medicines regulator – is also meeting on Today. It has previously said that people can continue receiving the vaccine.
BBC Health correspondent Nick Triggle says
"It is understandable anyone going to get vaccinated would be concerned given these reports.

"But the regulators in the UK and Europe are clear that vaccination should continue even though some individual nations have taken a different approach.

"Why? It's all to do with risk.

"From what has been published so far the chance of a blood clot after vaccination is very low and at this stage looks like it could be in line with what you would expect to happen anyway – coincidence rather than cause.

"In comparison, the risk from Covid to those currently being offered the vaccine is significant.

"Most of continental Europe is still working its way through the over-70s.

"If they are infected and have symptoms they have around a one in four chance of becoming seriously ill and needing hospital care.

"In the UK those in their 50s are being invited. They have a one in 10 chance.

"What is more, one of the most common consequences of serious Covid illness is blood clots.

"When it comes to risk, the odds are clearly in favour of vaccination."
1:50pm Update: 'No indication' of link to blood clots
The European Union's medicines regulator has reiterated there is no indication that the Oxford-AstraZeneca Covid vaccine causes blood clots, after several countries paused their rollouts.
Click here to read further details.
---
Covid vaccination information for carers
The following carers are currently being invited as a priority for vaccination as part of Cohort 6:
Carers who are known to GPs and have a 'carer's flag' on their primary care record. These carers will be invited for vaccination by their GP practice.
Carers who are eligible to receive carers allowance. These carers will be invited to book a vaccination at one of the mass vaccination centres.
Carers who are known to Local Authorities who are in receipt of support following a carers assessment. These carers will be invited to book a vaccination at one of the mass vaccination centres.
There are other unpaid carers who are a priority but are not known to the NHS or local authority. A new national process if being set up so that carers can self-declare to confirm they are caring for someone who is vulnerable to COVID-19 leading to a priority vaccine.
Click HERE or on the image above to read more details.
---
24/02/2021
Walkthrough video at Madejski Stadium
If you have an appointment to have your Covid vaccination at the Madejski Football Stadium we hope you'll find this helpful. It takes you
step by step through your visit. And this video also walks you through the centre and shows you where to go and who you will meet. Click HERE or the image above to watch the video.
Click HERE to read more FAQ's about the what to expect when you have your vaccination at the Madejski Stadium.
---
22/02/2021 – Mass Vaccination Centre opens at Reading's Madejski Stadium Today
The vaccination centre will have capacity to deliver thousands of Covid vaccines each week, working through the next phases of priority groups drawn up by the Government. This means the site will initially start vaccinating people in cohort 5 which is the 65-69 year olds. Earlier eligible groups who have not yet taken up a vaccination offer can also book an appointment at the Centre. This includes those aged 70/80+, as well as front line health and social care workers and those who are clinically extremely vulnerable.
Appointments are being offered via the national NHS booking system and we are urging people not to turn up at the site without a booked appointment.
The Madejski site will, over time, operate seven days a week dependent on vaccine supplies and demand.
Appointments will be staggered to allow for social distancing and people are urged not to turn up early to prevent queues forming.
The centre will be open to the public by invite only.
Nobody needs to contact the NHS, as people will be invited when it is their turn as part of the prioritisation list determined by the JCVI. People cannot get vaccinated by just turning up.
---
---
Coronavirus Yellow Card reporting site
Please click HERE, to report suspected side effects to medicines, vaccines or medical device and diagnostic adverse incidents used in coronavirus treatment to the Medicines and Healthcare products Regulatory Agency to ensure safe and effective use.
---
05/02/2021
Covid vaccines 'extremely safe' finds UK regulator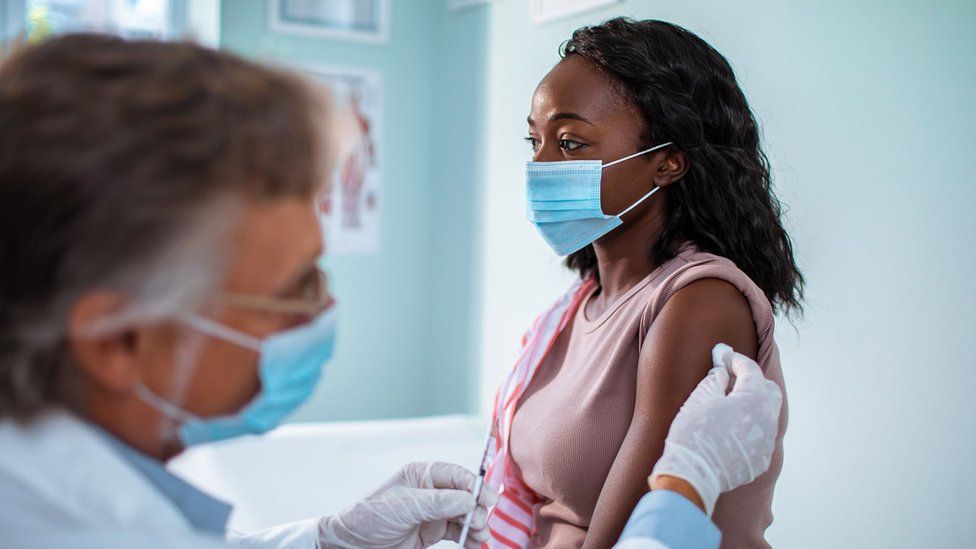 The Pfizer and AstraZeneca vaccines being given to millions of people in the UK by the NHS are extremely safe, with some mild expected side effects, says the country's drugs regulator.
Click here or on the image above to read the details.
---
Study reveals extent of Covid vaccine side effects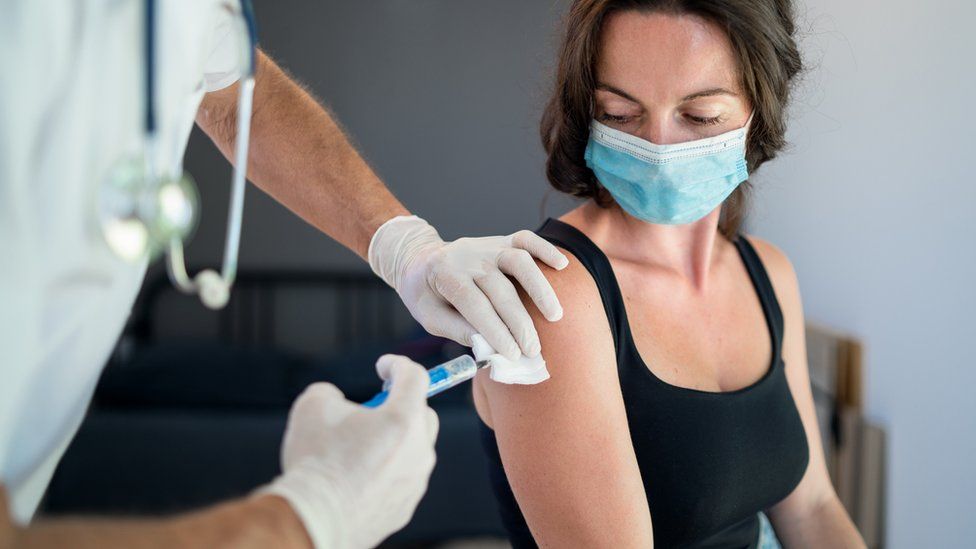 About one in three people recently given a Covid vaccine by the NHS report some side-effects.
None was serious – a common one was some soreness around the injection site, the UK researchers who gathered the feedback found.
Experts say the findings, from about 40,000 people – mostly healthcare workers – are reassuring for the millions having the vaccines now.
Some side-effects are to be expected and not a bad thing, they say.
Click here or on the image above to read more details.
---
03/02/2021
Oxford vaccine may reduce transmission by 67% – and protection 'remains for three-month jab interval'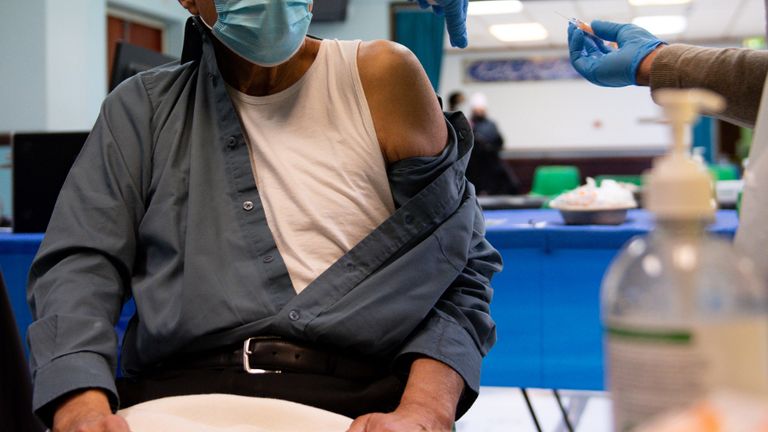 The Oxford/AstraZeneca vaccine may have a "substantial effect" on transmission of coronavirus, and a three-month gap between doses does not lower protection, according to a report.
Test results by the University of Oxford, published in a pre-print report with The Lancet, showed a 67% reduction in positive COVID-19 swabs among those vaccinated.
Click here or on the image above to read the details.
---
01/02/2021
A Covid vaccine has been offered to all older residents at eligible care homes in England, the NHS has announced.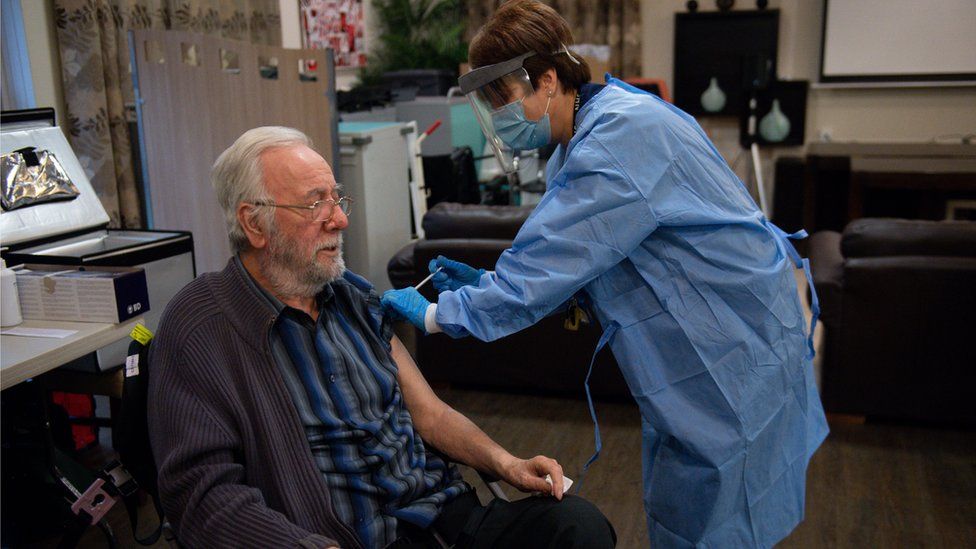 Prime Minister Boris Johnson described the achievement, expected to be confirmed by official figures on Monday, as a "crucial milestone".
A target of 15 February has been set for the UK to vaccinate care home residents and carers, people over 70 and frontline care workers.
On Saturday a record 598,389 first jabs were given across the UK.
It means nearly nine million people have received the first dose of a vaccine, with about 490,000 having received two jabs.
NHS England said more than 10,000 care homes with older residents had been offered vaccines, although a "small remainder" of homes had visits deferred by local public health directors for safety reasons during local outbreaks.
These will be visited by vaccinators as soon as NHS staff are allowed to do so, it said.
Click here or the image above to read the details.
---
Covid-19: UK orders extra 40m doses of Valneva vaccine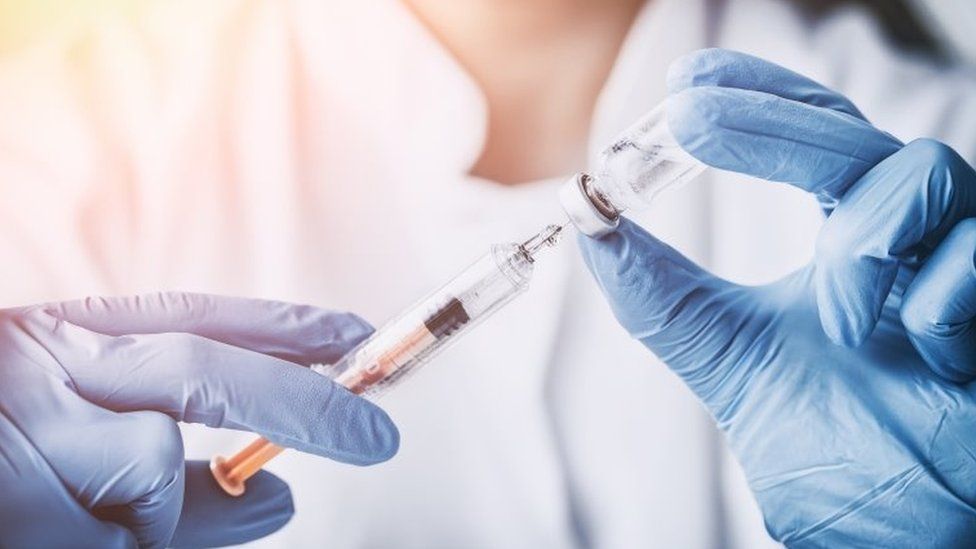 The UK has ordered an extra 40 million doses of a coronavirus vaccine from the French pharmaceutical company Valneva, that should become available later in the year and into 2022.
Click here to read the details.
---
29/01/2021
A new Novavax Coronavirus vaccine has been shown to be 89.3% effective in large-scale UK trials.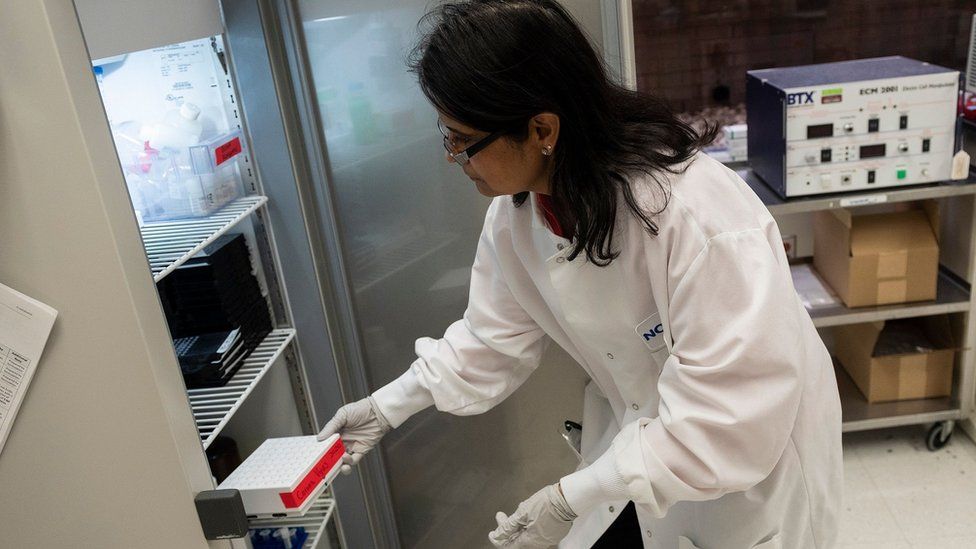 The Novavax jab is the first to show in trials that it is effective against the new virus variant found in the UK.
The UK has secured 60 million doses of the jab, which will be made in Stockton-on-Tees in north-east England.
Janssen, a pharmaceutical company owned by Johnson & Johnson, is also investigating whether giving two doses will give either stronger or longer-lasting protection.
Click here or the image above to read more details.
---
The RCOG and the RCM respond to misinformation around Covid-19 vaccine and fertility
Dr Edward Morris, President at the Royal College of Obstetricians and Gynaecologists, said: "We want to reassure women that there is no evidence to suggest that Covid-19 vaccines will affect fertility. Claims of any effect of Covid-19 vaccination on fertility are speculative and not supported by any data.
"There is​ ​no biologically plausible mechanism by which current vaccines would cause any impact on women's fertility. Evidence has not been presented that women who have been vaccinated have gone on to have fertility problems.
For women in the age group where they may be considering pregnancy, the vaccination is only currently being offered to two groups – health and social care workers (including carers for older adults in residential care homes) who are at higher risk of catching Covid-19 and those with ​serious medical conditions who have a greater risk of severe illness from Covid-19. Pregnant and breastfeeding women who are eligible will also be offered the vaccine.
RCM Chief Executive Gill Walton said: "If you are eligible for and have been offered a Covid-19 vaccine, the decision whether to have the vaccination is your choice. You can either have the vaccine or wait for more information about the vaccine. Women who are eligible for the vaccination should consider discussing any concerns they have with their midwife or healthcare professional.
"The RCOG and RCM would also like to emphasise to all women in this group (and all others) the importance of practicing social distancing, wearing a mask and regular handwashing."
Click HERE or the picture above to read the full information.
---
---
26/01/21
Covid19 Vaccination Update
The national NHS may have offered you a Covid vaccine some distance from where you live. You can accept it or wait to be contacted by your own GP surgery as soon as a vaccine slot is available closer to you. Your surgery will ring, text or write to you.
Click here or the image above to access the frequently asked questions around the vaccination.
You can also find more information here; Newbury Vaccination Centre Facebook Page.
---
Covid19 Vaccine Q&A from Healthwatch England
The Covid19 vaccination programme has started and will build up steadily in the weeks and months ahead. It will gradually be extended to more and more people.
This Q&A uses information provided by the Department for Health and Social Care to help you understand the programme and answer questions from the public.
Click here or on the image above to read the Q&A
---
Information about vaccines: For people with a learning disability and autistic people
NHS England and NHS Improvement have published a film on vaccinations for people with a learning disability and autistic people.
Click here or the image above to watch the video.
---
18/01/2021
Covid19: Vaccination begins for over 70's in England
People in England aged 70 and over, as well as those listed as clinically extremely vulnerable, will begin receiving offers of a coronavirus vaccine this week.
Read the details by clicking here or on the image above.
---
11/01/2021
The Joint Committee on Vaccination and Immunisation has shared advice on the groups that should be prioritised for the Covid-19 vaccination.
See the full report by clicking here or the image above.
---
World first at OUH as Brian receives his COVID Oxford Vaccine
Dialysis patients under the care of OUH were the very first people in the world to receive the Oxford AstraZeneca coronavirus vaccine at the Churchill Hospital in Oxford on Monday 4 January.
Brian Pinker, 82, who was the first person to receive his vaccination from OUH Chief Nursing Officer, Sam Foster, said: "I am so pleased to be getting the COVID vaccine today and really proud it is one that was invented in Oxford."
Professor Andrew Pollard, an Honorary Consultant Paediatrician at OUH and Chief Investigator of the Oxford Vaccine Trial, was also among the first people to be vaccinated on 4 January. He said: "It was an incredibly proud moment for me to have received the actual vaccine that the University of Oxford and AstraZeneca teams have worked so hard to make available to the UK and the world."
More information is available on the OUH website.
---
07/01/2021
Royal College of Midwives Update COVID-19 Vaccination Information
Click HERE or the image above to read the full information.
---
29/12/2020
Covid-19: Oxford-AstraZeneca coronavirus vaccine approved
The Oxford-AstraZeneca vaccine has been approved for use in the UK, with the first doses due to be given on Monday amid rising coronavirus cases.
The UK has ordered 100 million doses – enough to vaccinate 50 million people.
This will cover the entire population, when combined with the full order of the Pfizer-BioNTech jab, Health Secretary Matt Hancock said.
---
16/12/2020
GPs in Berkshire West begin offering COVID-19 vaccine as part of the biggest NHS immunisation programme
Patients are now starting to receive Covid-19 vaccinations at two Berkshire West GP surgeries, Wargrave and Tilehurst, in the latest stage of the roll out of the biggest vaccination programme in NHS history.
Over the next couple of weeks other GP practices will be joining forces and contacting patients to offer them the vaccination, initially to patients over 80 years old and frontline health and care workers.
Today's milestone marks significant work from practice teams across Berkshire West to work rapidly over the last weeks to plan for the vaccination programme, redesign their sites and put in place safe processes to meet the tough logistical challenges of offering the vaccination.
People are asked not to contact their GP surgery so that their practice team can focus on arranging the vaccinations and provide day to day for all of their registered patients. You will be contacted when it is your turn to receive the vaccine.
Dr Abid Irfan, Chair of Berkshire West CCG said:

"Today marks a significant day in Berkshire West as we go live with our first GP led services in the greatest vaccination programme ever undertaken by the NHS.
"It has been incredible to see the efforts of GP practices and teams across Berkshire West coming together to work collectively to prepare for today and I am proud of everyone who is involved.
"Whilst the vaccine offers our best defence against the virus, it's important to remember that it doesn't mean we can start to relax our attention to the hands, face, space regulations. I'd urge everyone to continue doing everything they can to comply with the Government's rules and play their part in helping to keep themselves and their families safe," added Dr Irfan.

Key message for the public
The public have an important part to play to help them do this:
• please don't contact the NHS to seek a vaccine, we will contact you;
• when we do contact you, please attend your booked appointments; and
• please continue to follow all the guidance to control the virus and save lives.
---
14/12/2020
Covid vaccine: GPs in England to begin offering Pfizer jab
Click here or on the image above to read the details.
---
08/12/2020
COVID vaccinations get underway in Oxford on 'V Day'

"Tuesday 8 December was a momentous day for Oxfordshire and an historic day for the NHS as we started the COVID-19 vaccination programme at the Churchill Hospital, playing our part in the biggest and most eagerly anticipated immunisation campaign in history."
OUH Chief Executive Officer, Dr Bruno Holthof, said: "I would like to thank all of our staff who have done such a tremendous job to get our hospital hub set up at such pace. This has been a great achievement of team working by our estates, digital, pharmacy and clinical staff, with the support of many more.
"This is a hugely significant moment in our pandemic response, and offers hope at the end of what has been an incredibly difficult year for us all. The strict approval process it has gone through means that the approved vaccine, and any other vaccines approved in the future, will not only be safe, but will also be our best defence against the virus."
OUH have tweeted a link to a video featuring some of the first people to receive the COVID-19 vaccine at the Churchill last Tuesday.
More information is available on the OUH website.
---
The first person gets the new COVID-19 vaccine.
A UK grandmother has become the first person in the world to be given the Pfizer Covid-19 jab as part of a mass vaccination programme.
Margaret Keenan, who turns 91 next week, said it was the "best early birthday present".
She was given the injection at 06:31 GMT – the first of 800,000 doses of the Pfizer/BioNTech vaccine that will be dispensed in the coming weeks.
Click here or the image above to read the full story
---
07/12/2020
Hospitals to start biggest ever NHS Vaccination Programme this week
Read the details by clicking here or on the image above.
---
02/12/2020
The UK has become the first country in the world to approve the Pfizer/BioNTech Coronavirus vaccine paving the way for mass vaccination
Elderly people in Care Homes and care home staff are top of the priority list, followed by over-80s and health and care staff.
Click here or on the image above to read the details.
---
23/11/2020
Covid-19: Oxford University vaccine is highly effective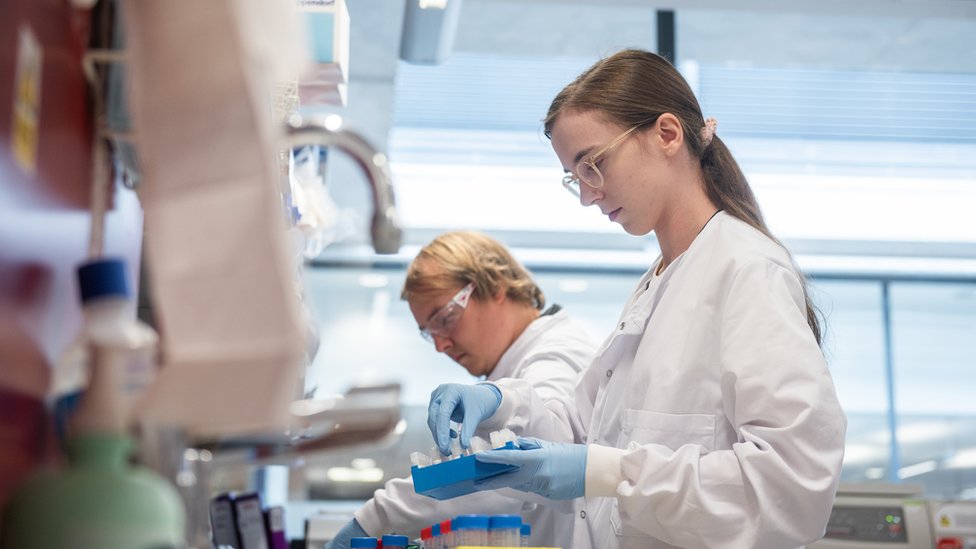 jThe coronavirus vaccine developed by the University of Oxford is highly effective at stopping people developing Covid-19 symptoms, a large trial shows.
Interim data suggests 70% protection, but the researchers say the figure may be as high as 90% by tweaking the dose.
The results will be seen as a triumph, but come after Pfizer and Moderna vaccines showed 95% protection.
However, the Oxford jab is far cheaper, and is easier to store and get to every corner of the world than the other two.
Click here or the image above to read the details.
---
10/11/2020
The NHS is ready to start providing the new Corovavirus vaccine 'as fast as safely possible', Health Secretary Matt Hancock has said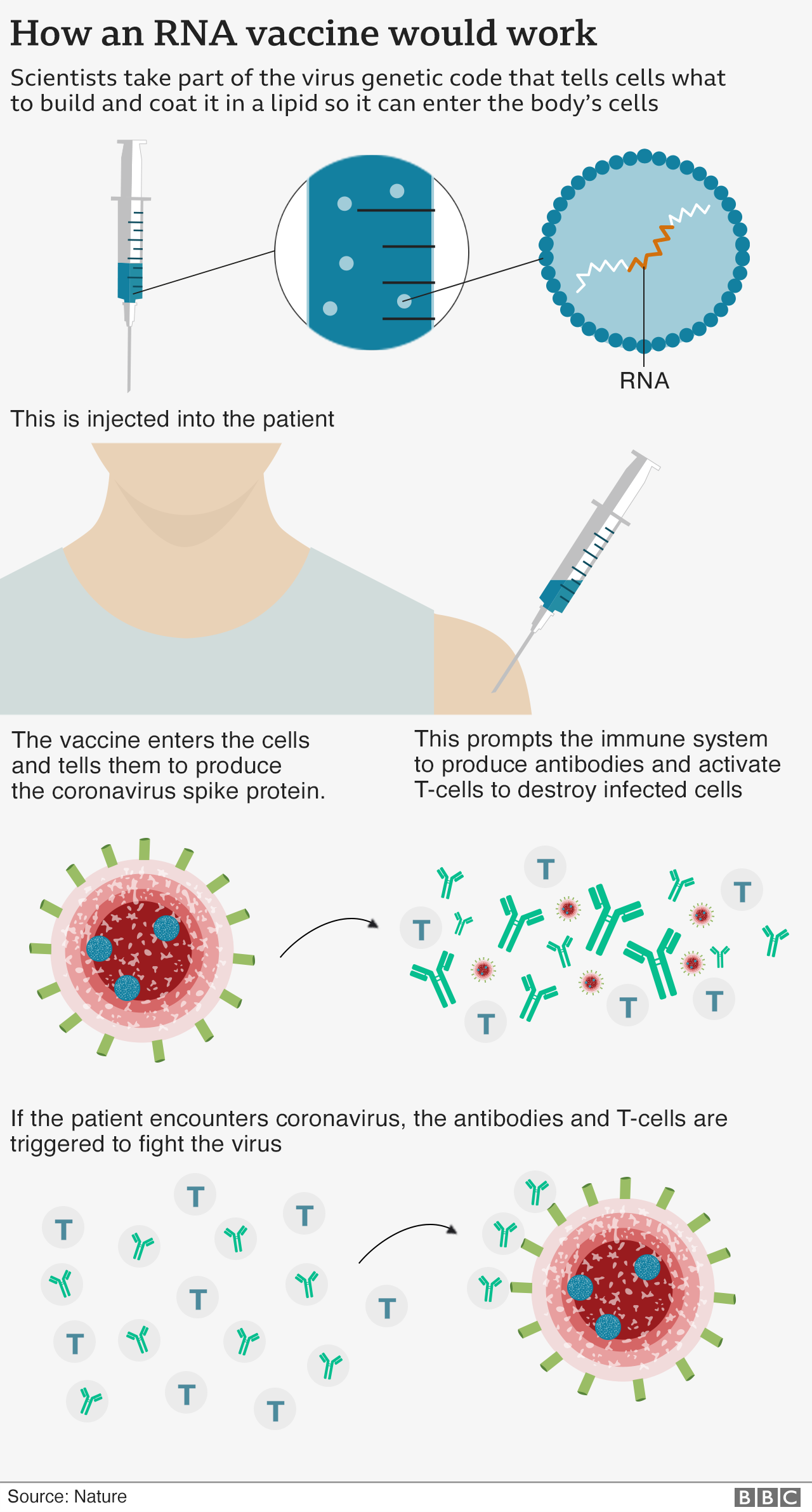 Click here or on the image above to read the details.
---
09/11/2020
Pfizer's Covid-19 vaccine prevented more than 90% of infections in a study of tens of thousands of volunteers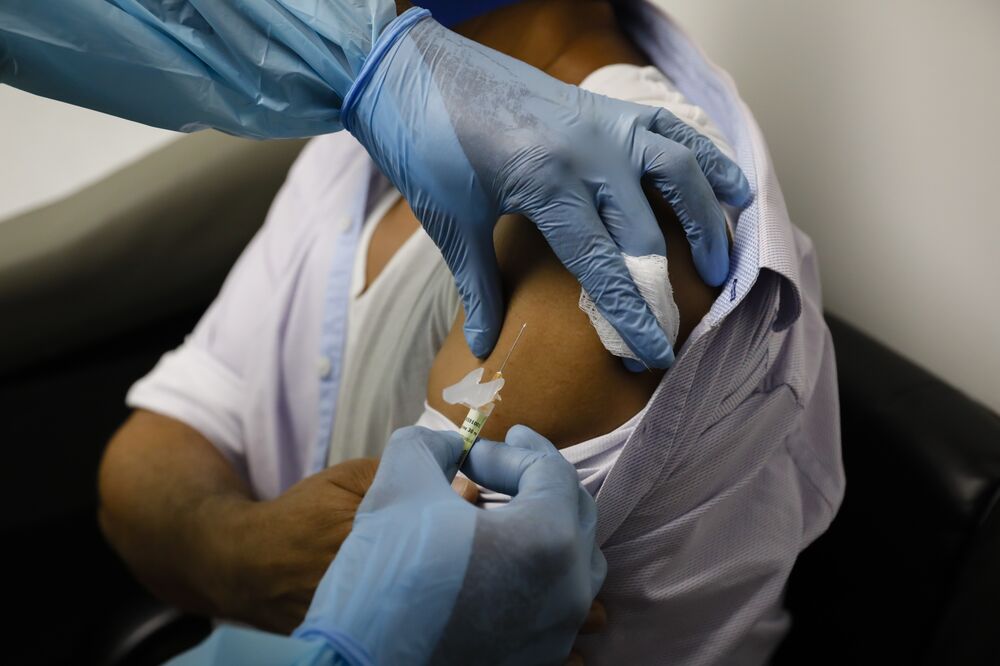 The Covid-19 vaccine being developed by Pfizer Inc. and BioNTech SE prevented more than 90% of infections in a study of tens of thousands of volunteers, the most encouraging scientific advance so far in the battle against the coronavirus.
Eight months into the worst pandemic in a century, the preliminary results pave the way for the companies to seek an emergency-use authorization from regulators if further research shows the shot is also safe.
Read the details by clicking here or on the image above.