26/05/2021
 Our Chief Officer Andrew Sharp again talking about Dental on BBC Radio Berkshire
---
24/05/2021
New data from Healthwatch England highlights issues with NHS dental care during the last COVID-19 lockdown
A review of 1,375 people's experiences shared with Healthwatch England found a lack of consistency across the country when it comes to accessing a dental appointment.
Whilst some people were charged £400 to get one tooth out, an individual reported being asked to pay over £7,000 for their dentures privately. But private treatment is not an option for everyone, with many people now struggling to pay even for NHS treatment.
Whilst some people were asked to wait an unreasonable time of up to three years for an NHS appointment, those able to afford private care could get an appointment within a week.
These findings are also consistent with our own findings at Healthwatch West Berkshire, where key issues in community NHS dental services were highlighted in our recently published Covid-19 report.

"It appears that NHS dentistry has been scaled down to such an extent it is almost impossible to access, although by paying privately a service can seemingly be quickly accessed." – Our Covid-19 report

In our report we recommended that NHS Dental services undergo a total national route and branch re-design. You can read or report by clicking HERE
Click here or on the image above to read the full article on Healthwatch Englands website.
---
13/05/2021
Our Chief Officer talking about dental services via BBC Radio Berkshire
---
15/02/2021
Additional access sessions available to patients in the South East region – starting Friday 12 February
In order to improve access for patients who are not currently able to receive treatment from a dental practitioner within the South East, NHS England and NHS Improvement South East has commissioned additional patient access sessions for the forthcoming six month period.
These sessions are in addition to the current service that is being provided by General Dental Practitioners within your area.
Please see the list below of practices within your area that will be providing these sessions.
Starting on Friday 12 February
Shinfield Dental Centre, School Green, Reading, Berkshire, RG2 9EH – 0118 988 3178
Monday – 17:00-20:30
Tuesday – 17:00-18:00
Wednesday – N/A
Thursday – 17:00-18:30
Friday – 17:00-20:30
Saturday 09:30-13:00
Burghfield Dental Care Limited, Tarragon Way, Burghfield Common Berkshire, RG7 3YU – 01189 833563

Friday 13:30 – 17:00
---
Starting on Saturday 13 February
Gentle Dental Care 6 Chapel Hill, Tilehurst, Reading, Berkshire, RG31 5DG – 0118 945 2900 / 0118 945 5555
Saturday 13:30 – 16:30
---
Starting on Monday 22 February
Highgrove Dental Care 45, Whitley Street, Reading, Berkshire, RG2 0EG 01189 871287
Monday 16:00 – 19:30
---
Starting on Saturday 27 February
Loddon Bridge Road Dental Practice, 281 Loddon Bridge Road, Woodley, Reading, Berkshire, RG5 4BE – 01189 692935
Saturday 8:30 – 16:00
---
---
Our Chief Officer talks about local Dental service issues on BBC Radio Berkshire
Healthwatch West Berkshire Chief Officer Andrew Sharp on Tuesday 9th February 2021, talking about local dental service issues on BBC Radio Berkshire, highlighting some of the problems people have told us about, discussing what needs to be done, and more.
Click here or on the video above to listen to the audio clip.
---
08/02/2021
Some NHS dental patients are being asked to pay for private appointments to get treatment while others face two-year waits.
Click here or on the image above to read the details about this story.
Have your say and tell us, your local Health and Social Care champion in West Berkshire your own experience of dental services during covid19 by filling in our short anonymous survey.
---
25/01/2021
Dental Survey During Covid-19 lockdown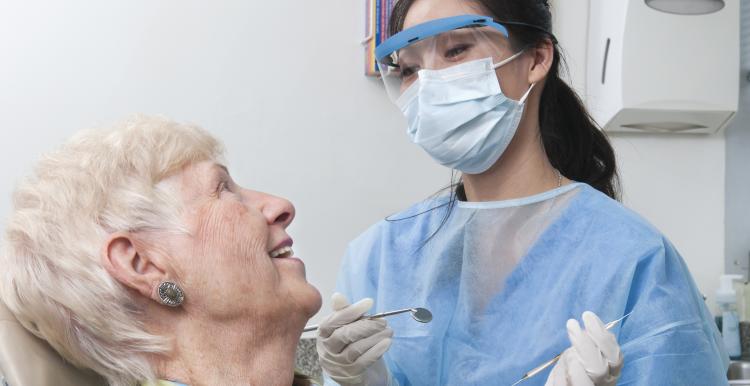 We want to hear about your experience of finding dental treatment during COVID-19. Were you able to see a dentist? Was it hard to find one? What was your experience like? Let us know by filling in our short anonymous survey here.
---
07/09/2020
Our Chief Officer on Dentistry Issues
A clip from BBC South Today, recorded on Monday 7th September 2020, highlighting problems dentistry services are facing, including longer waiting times. Our Chief Officer Andrew Sharp makes an appearance and shares his thoughts in this clip.
---
11/06/2020
Dental Update and what your dental service is dong to help keep you safe (Click the images below to read the details)
28/05/2020
Click here or on the image above to read the details.
You can also click here or the image below to read the letter from Sara Hurley (Chief Dental Officer) and Matt Neligan (Director of Primary Care and System Transformation) where they ask all dental practices to commence opening from Monday 8 June for all face to face care.
---
21/04/2020
Urgent Dental Care in the South East stakeholder briefing
---
17/04/2020
Emergency Dental Update from Berkshire Healthcare NHS Foundation Trust
---
02/04/2020
Read the new guidance from the NHS regarding changes to Primary Dental Care services in response to COVID-19.
You may face an increase in public enquiries about how to access dental services. NHS England have provided an update with changes to services, with a focus on managing urgent dental care needs. While people should be able to access dental care where essential, routine treatment will not be available during this time.
Dental practices will be updating their websites and messaging to reflect this, and informing their commissioner so that the 111 service is kept up to date.
We have pulled together the updates including the immediate changes, which affect both the delivery and operation of general dental practices and community dental services.
Clink on the image to read the full letter
---
LOCAL ADVICE
After guidance from NHS England, all dentists have been asked to suspend routine dental care due to the increased risk of Covid-19. If you have a dental emergency please contact your dentist.
If you do not have a dentist and have a dental emergency please go on online to 111.nhs.uk and search for dental. Complete the form and you will be directed as necessary.
If patient exhibits any of the following symptoms, they are advised to contact NHS 111 for emergency advice.
Patient information can be located at: