23/07/2021
Coronavirus: Worst affected care homes revealed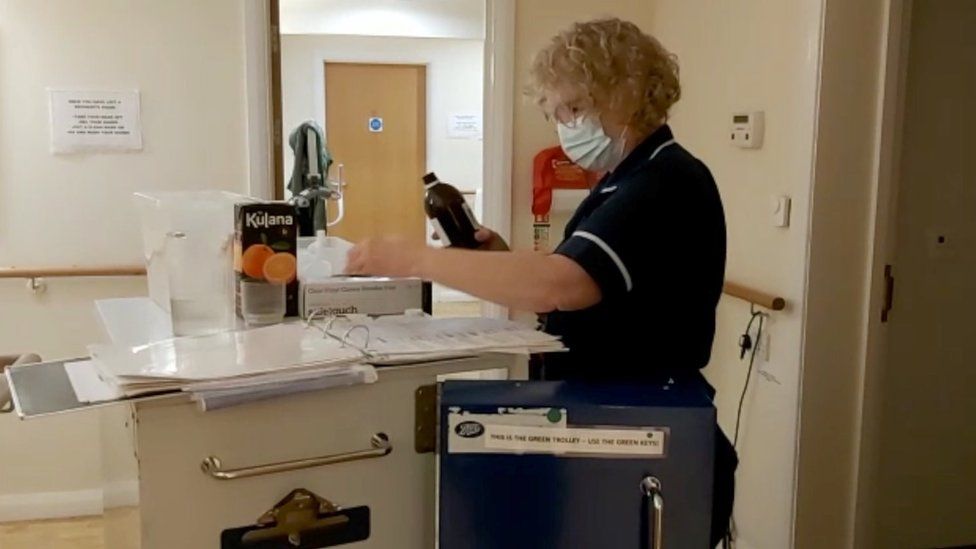 The Care Quality Commission (CQC) has published data showing death notifications involving COVID-19 received from individual care homes between 10 April 2020 and 31 March 2021.
Read the details and find out if there is data about your local care home in West Berkshire by clicking here or on the image above.
---
17/03/2021
Covid vaccine to be compulsory for England care home staff
Covid vaccinations are to become compulsory for staff at care homes in England, Health Secretary Matt Hancock has said.
Mr Hancock said it was a "sensible and reasonable step" and he would consult on extending it to the NHS.
There are no plans to extend mandatory vaccinations beyond health and care workers, he said.
Workers will have 16 weeks to get both jabs from the time regulations are approved by Parliament.
If they do not, they face being redeployed away from front-line care or potentially losing their job.
Click HERE to read the full story.
---
16/03/2021
Covid vaccination information for carers
The following carers are currently being invited as a priority for vaccination as part of Cohort 6: 
 Carers who are known to GPs and have a 'carer's flag' on their primary care record. These carers will be invited for vaccination by their GP practice.

 Carers who are eligible to receive carers allowance. These carers will be invited to book a vaccination at one of the mass vaccination centres. 

 Carers who are known to Local Authorities who are in receipt of support following a carers assessment. These carers will be invited to book a vaccination at one of the mass vaccination centres.
There are other unpaid carers who are a priority but are not known to the NHS or local authority. A new national process if being set up so that carers can self-declare to confirm they are caring for someone who is vulnerable to COVID-19 leading to a priority vaccine.
Click HERE or on the image above to read more details.
05/03/2021 Tell us about care homes during the pandemic

---

05/11/2020 New Guidance for Care Homes

Visits should be tailored to residents and facilities and should prioritise residents and staff's safety to limit the transmission of COVID-19
Care homes, especially those who have not allowed visits since March, will be encouraged and supported to provide safe visiting opportunities as new national restrictions come into effect
Measures put in place should provide COVID-secure opportunities for families to meet using visiting arrangements such as floor to ceiling screens, visiting pods, and window visit
Click here or the image above to read the full guidance.
---
The arrival of COVID-19 has meant that a number of restrictions have been placed on care homes to prevent the spread of infection and ensure the health and safety of both care workers and its residents.
As the rate of infection is decreasing across the country, these restrictions are being lifted however a number of changes will be put in place to keep you and your loved ones safe.
Click here for guidance from gov.uk.
---
---
Advanced dementia course – A free online event
Come along to an online Advanced dementia course at Winchcombe Place care home.

Join this informative six week online advanced dementia course, developed by Jennifer Hall, Senior Specialist Nurse Practitioner from the Integrated Care Home Team at Berkshire Healthcare Foundation Trust.

Week 1: Becoming a dementia friend
Week 2: Brain and body changes,
Week 3: Communications
Week 4: Sensitivity and the environment
Week 5: Behaviour
Week 6: End of life.

In week one, hear live from Vicki Lambourne, a Care UK Dementia Champion, as she shares insights and guidance to help you understand what it might be like to live with dementia.

An opportunity to share experiences, ask questions and take a virtual tour of Winchcombe Place care home.
Each week thereafter, the course can be completed at your own pace in the comfort of your own home, and Vicki will have follow up calls with you to help with any queries.
Zoom is used, an online meeting space, which is easy to use. Once you have booked your place, Vicki will send you the meeting details and tips for getting most out of attending an online event.
Date: Wednesday 9th September 2020
Time: 6.15pm – 7.15pm
Location: Zoom
Register your interest by emailing vicki.lambourne@careuk.com
---
West Berkshire Social care services are doing everything they can during these challenging times to keep your relatives well in care homes, but there might be things that can be improved. Your feedback helps services spot issues that are affecting the care for your loved ones in care homes. #TellUs
Contact us: 01635 886210 or contact@healthwatchwestberks.org.uk
---
Click here or the image above to read the updated care home guidance.