COVID-19 is a new illness that can affect your lungs and airways. It's caused by a virus called coronavirus.
---
14/09/2021
JCVI issues updated advice on COVID-19 booster vaccination
The Joint Committee on Vaccination and Immunisation (JCVI) has updated its advice on the COVID-19 vaccine booster programme.
The COVID-19 vaccines provide high levels of protection against hospitalisation or dying from the virus. To maintain this high level of protection through the coming winter, the JCVI is advising that booster vaccines be offered to those more at risk from serious disease, and who were vaccinated during Phase 1 of the vaccine programme (priority groups 1 to 9).
This includes:
those living in residential care homes for older adults
all adults aged 50 years or over
frontline health and social care workers
all those aged 16 to 49 years with underlying health conditions that put them at higher risk of severe COVID-19, and adult carers
adult household contacts of immunosuppressed individuals
The JCVI advises that the booster vaccine dose is offered no earlier than 6 months after completion of the primary vaccine course, in the same order as during Phase 1.
Click here to learn more details.
---
The following guidance applies whenever a patient is conveyed:
Travelling in an ambulance to support an adult with a learning disability
Essential escorts/carers/support workers should not be restricted from travelling with the patient where their support is necessary for the benefit of the patient for example, disabled patients.
Non-essential persons (such as observers, family members) are not to travel within the patient compartment with a suspected or confirmed case, unless the patient is a child who requires conveyance, in this case it is acceptable for a parent or guardian to accompany the child.
Family members and relatives of these patients accompanying these patients may be restricted depending on the identified risk pathway for the patient. All visitors/patient escorts will be required to wear a face covering within the ambulance and should remain in the vehicle saloon.
---
05/08/2021
JCVI issues updated advice on COVID-19 vaccination of young people aged 16 to 17
The Joint Committee on Vaccination and Immunisation (JCVI) is today advising that all 16 and 17 year olds receive their first dose of the Pfizer-BioNTech vaccine. Click here or the image above to read the full guidance.
At present the advice is that young people aged 16 and 17 need to wait to be contacted by the NHS for their covid vaccine.
---
16/07/2021
The Prime Minister held a press conference on Monday, 12 July, where he confirmed that England will move to Step 4 of the Roadmap on 19 July.
He also confirmed, however, that we are still in a pandemic and that we all need to remain vigilant, exercise caution, and get both doses of the Covid vaccine when offered. Current modelling suggests that COVID-19 cases will continue to rise as restrictions are eased.
England's Chief Nurse on Thursday 15th July, reminded the public that everyone accessing or visiting healthcare settings must continue to wear a face covering and follow social distancing rules.
"Please help us to reduce the risk of infection for our staff and patients by following the guidance."
Click here or the image above to access the guidance.
---
19/04/2021
The Joint Committee on Vaccination and Immunisation (JCVI) has advised that pregnant women should be offered the COVID-19 vaccination at the same time as everyone else, based on age and clinical risk.
This news follows data showing that around 90,000 pregnant women had been vaccinated, mainly with mRNA vaccines, including Pfizer-BioNTech and Moderna, without any safety concerns being raised.
As a result JCVI advises that it's preferable for pregnant women in the UK to be offered the Pfizer-BioNTech or Moderna vaccines where available. There is no evidence to suggest that other vaccines are unsafe for pregnant women, but more research is needed.
Click Here or on the image above to read the details.
---
18/03/2021
There have been some updates to Guidance on shielding and protecting people who are Clinically Extremely Vulnerable from COVID-19

Click here or on the image above to read the details and see what has changed.
---
09/03/2021
Visiting is a central part of care home life. It is crucially important for maintaining the health, wellbeing and quality of life of residents. Visiting is also vital for family and friends to maintain contact and life-long relationships with their loved ones and contribute to their support and care.
This guidance which you can read by clicking HERE or on the image above, applies from 8th March 2021 and replaces previous guidance on care home visiting. It applies to care homes for working age and for older adults.
---
08/01/2021
The Government has recently provided updated guidance for schools, childcare providers, colleges and local authorities in England on maintaining educational provision.
The full official guidance can be found by clicking here or on the image above.
---
06/01/2021
Stay Home Stay Safe
Click the image above or here to read the guidance.
---
21/12/2020
West Berkshire in Tier 4 Now
All clinically extremely vulnerable individuals in Tier 4 are strongly urged to follow the guidance, which is the same as the national guidance in November.
Click HERE to read the full guidance.
---
18/12/2020
From the 19th December 2020 West Berkshire will go into Tier 3
---
08/12/2020
Christmas Covid rules
Between 23 and 27 December, the three households will be allowed to form a temporary "Christmas bubble". They can mix indoors and stay overnight.
Bubbles will be allowed to meet each other:
In each other's homes
At a place of worship
In an outdoor public space, or garden
The bubbles will be fixed, so you will not be able to mix with two households on Christmas Day and two different ones on Boxing Day. Households you are in a Christmas bubble with can't be in others.
Click HERE or the image above to read the full story
---
02/12/2020
West Berkshire moves into Coronavirus Alert Tier Two
---
06/11/2020
Clinically extremely vulnerable receive updated guidance in line with new national restrictions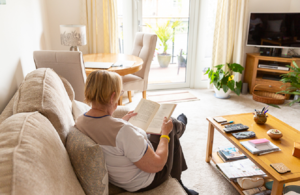 Clinically extremely vulnerable people in England have today received further guidance on keeping safe as the country introduces new national restrictions from Thursday, the government has announced.
The new advice details further precautions those in this group can take on top of the tougher national measures being introduced, as cases continue to rise across the country. Everyone not considered to be clinically extremely vulnerable will be expected to follow the new restrictions, such as staying at home unless shopping for food or exercising and not meeting up with people outside of the household.
Read the details by clicking here or on the image above.
---
05/11/2020
New Guidance for Care Homes
Visits should be tailored to residents and facilities and should prioritise residents and staff's safety to limit the transmission of COVID-19
Care homes, especially those who have not allowed visits since March, will be encouraged and supported to provide safe visiting opportunities as new national restrictions come into effect
Measures put in place should provide COVID-secure opportunities for families to meet using visiting arrangements such as floor to ceiling screens, visiting pods, and window visit
Click here or the image above to read the full guidance.
---
04/11/2020
National restrictions will apply in England from 5th Nov until 2nd Dec
You must stay at home, with a limited set of exemptions.
After 4 weeks the government will review the restrictions, based on the latest data.
Read more by clicking here or the image above.
---
14/10/2020 – Covid-19: New three-tier restrictions come into force
Following the Prime Ministers announcement on local Covid alert levels throughout England, West Berkshire is now at alert level "Medium".
Areas on medium alert are subject to the national restrictions currently in force prior to the Prime Ministers announcement, including the rule of six on indoor and outdoor gatherings and the 22:00 closing time for pubs, bars and restaurants.
We must all continue to obey the guidance to keep West Berkshire open and save lives.
Read more information by clicking either of the two images above, or by clicking here.
---
23/09/2020 – Covid rules: What are the new Coronavirus restrictions
Pubs, bars and restaurants to close at 22:00 BST
They will also be restricted to table service only
People should work from home wherever possible
Face masks compulsory for bar staff and non-seated customers, shop workers and waiters
Limit on guests at weddings reduced from 30 to 15
Plans to allow fans to return to sporting events paused
"Rule of six" now applies to indoor team sports
Fines for not wearing masks or following rules increased to £200 for first offence
Click here or on the image above to read the details. Or click here to read the information on the government website.
---
14/09/2020 – Updated Social Distancing Covid Guidance
Government guidance for Social Distancing has been updated on 14th September 2020. Some of the key points from this guidance are as follows.
When seeing friends and family you do not live with you should:
meet in groups of 6 or less
follow social distancing rules
limit how many different people you see socially over a short period of time
meet people outdoors where practical: meeting people outdoors is safer than meeting people indoors because fresh air provides better ventilation
It is critical that everybody observes the following key behaviours:
HANDS – Wash your hands regularly and for 20 seconds.
FACE – Wear a face covering in indoor settings where social distancing may be difficult, and where you will come into contact with people you do not normally meet.
SPACE – Stay 2 metres apart from people you do not live with where possible, or 1 metre with extra precautions in place (such as wearing face coverings or increasing ventilation indoors).
Please click here or on the image above to read the full details.
---
11/09/2020 – New public information campaign to prevent the spread
of coronavirus this winter
HM Government has launched Hands. Face. Space, a new campaign that urges the public to continue to wash their hands, cover their face and make space to control infection rates and avoid a second peak. The spread of coronavirus, particularly in enclosed spaces is shown in a new film, produced with experts in the field, which highlights the risk in simple, everyday interactions.
The campaign will run across TV, radio, print, out of home, social and digital display advertising.
---
The following guidance contains information for parents and carers of children at registered childcare providers, primary and secondary schools and colleges.
It includes:
new information on school admissions
updated information on travelling to and from nursery, childminders, school and college
updated information on education, health and care (EHC) plans, wellbeing and online safety
updated information about assessment and exams
updated information on face coverings
Click here or on the image above to read the guidance.
---
31/07/2020 – Update on policies for visiting arrangements in care homes
Click the image below to read the details.
---
31/07/2020 – Update to face covering guidance
Wearing a face covering in shops and supermarkets in England is mandatory, and those who fail to comply will face a fine of up to £100, the government has announced.

For the latest face covering guidance, including how to wear and make your own face covering, please click here or on the image below.
The Government has also announced that face covering is mandatory in hospitals for staff and visitors.

Read face covering information from our local hospital trusts by clicking the links below:

Royal Berkshire NHS Foundation Trust
Berkshire Healthcare NHS Foundation Trust
Great Western Hospitals NHS Foundation Trust
Hampshire Hospitals NHS Foundation Trust
Oxford University Hospitals NHS Foundation Trust

You can also click here or the image below to read a Government press release about face coverings in hospitals.
---
14/07/2020 – Updated face covering guidance
Face covering guidance has been updated to reflect the changes coming on July 24th, where it will become mandatory for people to wear face coverings in shops.
Read the guidance by clicking here or on the image above.
---
03/07/2020 – Updated advice on shielding
The Government have announced that the advice for people who are shielding because of COVID-19 will be relaxed in two phases.
From 6 July those shielding will be able to spend time outdoors in a group of up to 6 people including those outside of their household, while maintaining social distancing.Those who are shielding and live alone or are single parents with children will also be able to create a 'support bubble' with one other household of any size, following the same rules that are already in place for the wider population.
From 1 August, the shielding advice will relax further, allowing those shielding to do even more, such as visit shops and places of worship, and return to work provided they take particular care to maintain social distancing and minimise contact with others outside their household.
Support available:
The food and medicine boxes facilitated by the National Shielding Service will stop as of 1 August, with everyone now being advised that they can visit shops and pharmacies.
Other forms of support – such as priority supermarket delivery slots and the NHS Volunteers Scheme – will continue.
---
12/06/2020 – Hospital Visiting Recommendations
Following the Secretary of State for Health's announcement on 5 June 2020, by 15 June 2020:
hospitals should ensure that measures are in place so that all settings are, where practicable, COVID-secure, using social distancing, optimal hand hygiene, frequent surface decontamination, ventilation and other measures where appropriate
in all settings that are unable to be delivered as COVID-19 secure, all hospital staff (both in clinical and non-clinical roles), when not otherwise required to use personal protective equipment, should wear a facemask; worn to prevent the spread of infection from the wearer*
visitors and outpatients to hospital settings should wear a form of face covering for the same reason, to prevent the spread of infection from the wearer
Click here or the image above to read the full guidance.
---
06/05/2020 – Carers UK Update Their Information Surrounding Coronavirus:
As the situation with coronavirus evolves it's important to know what support is available to you as a carer and those you look after.If you are worried that you or someone you look after may be at risk, NHS 111 can offer direct guidance through their online coronavirus helpline. Call 111 if your (or their) symptoms become severe, and let them know you are a carer.
Please click here for further information
---
01/05/2020
"The single most important action we can all take, in fighting coronavirus, is to stay at home in order to protect the NHS and save lives.
"When we reduce our day-to-day contact with other people, we will reduce the spread of the infection. That is why the government has introduced three new measures.
Requiring people to stay at home, except for very limited purposes
Closing certain businesses and venues
Stopping gatherings of more than two people in public
"Following these measures will help limit the spread of coronavirus, reduce the impact on the NHS and save lives. Key parts of the measures are underpinned by law, which sets out clearly what you must and must not do – every person in the country must comply with this. The relevant authorities, including the police, have been given the powers to enforce the law – including through fines and dispersing gatherings."
Click here or the image above to read further details, including the full guidance.
---
20/04/2020 – Lasting Power of Attorney Update
A lasting power of attorney is a document that protects you when you can't speak for yourself. Guidance on what you can and can't do when making one during the COVID-19 outbreak has been created.
Please click the image below to read the full guidance.
---
02/04/2020 – Coronavirus domestic absue West Berkshire Support and Guidance
West Berkshire Council have created some support and guidance for those that are experiencing domestic abuse during the pandemic.
For a full version of this guidance including links to support services, please click the image below.
---
31/03/2020 – Updated Guidance for care of the deceased with suspected or confirmed coronavirus
Click here or on the image below to read the guidance.
---
30/03/2020 – Public Health have published new guidance on how to look after your mental health and well being during the coronavirus outbreak.
Click the image below to read the guidance in full.
---
29/03/2020 – Public Health new guidance on mental health and wellbeing during the coronavirus outbreak
Click the image below to read the guidance, also includes advice on supporting children and young people
---
23/03/2020 – Updated Official guidance produced by Public Health England on limiting social interaction to reduce the spread of the Coronavirus:
Please take a few minutes to read this important advice in full, by clicking here or the image below.
---
Department of Health Update About Travel:
During the coronavirus pandemic, people should avoid travelling unless it is essential. This means you should avoid visiting holiday or second homes.
Find out more information by clicking here
---
22/03/2020 – What is Social Distancing:
---
21/03/2020 – Change in Advice from the Department of Health for at risk patients:
Some people with serious underlying health conditions face the highest risk of being hospitalised by the coronavirus.
We are now urging these people to stay at home.
Organ Transplant Recipients
People with specific cancers
People having treatments for cancer
People with severe respiratory conditions
People with rare diseases
People on immunosuppression therapies
People who are pregnant with significant congenital heart disease.
Please see the full list below:
---
Department of Health's to helping the at risk patients:
This guidance is for people, including children, who are at very high risk of severe illness from coronavirus (COVID-19) because of an underlying health condition, and for their family, friends and carers.
It is intended for use in situations where the extremely vulnerable person is living in their own home, with or without additional support. This includes the extremely clinically vulnerable people living in long-term care facilities, either for the elderly or persons with special needs.
Guidance on shielding & protecting the vulnerable and at risk people.
---
18/03/2020 – NHS advise people to take paracetamol to treat symptoms
Various information is circulating on social media about which medicines to use to help treat the symptoms of coronavirus.
NHS advice: take paracetamol to treat the symptoms of coronavirus, unless your doctor has told you it's not suitable for you.
---
16/03/2020 – New guidance has been published on what you need to do to protect yourself, protect others, and protect the NHS.
This guidance is for everyone. It advises on social distancing measures we should all be taking to reduce social interaction between people in order to reduce the transmission of coronavirus (COVID-19). It is intended for use in situations where people are living in their own homes, with or without additional support from friends, family and carers. Some of the key points from this guidance is posted below.
– If you live with other people and anyone in your household has a new continuous cough or a high temperature, you should stay at home for 14 days.
Try to get help from other people for daily necessities, but if you absolutely have to go outside, ensure you stay a safe distance from other people.
– If anyone in your household has none of the coronavirus symptoms, you should stop all non essential contact with other people, work from home if possible, stop all unnecessary travel, and avoid clubs, pubs, theaters and other social venues.
This guidance is especially important if you are over 70 years old, if you are a pregnant woman, if you have a weakened immune system, or if you have a health condition that makes you more vulnerable.
Please take a few minutes to read this important advice in full, by clicking here.
---
13/3/2020
NHS is advising people to stay home for 7 days if you have either a high temperature or a new continuous cough.
Use NHS 111 if your condition worsens and you cannot cope from home, or if your condition doesn't improve after 7 days.

Read the full details HERE
Feeling ill and are unsure whether it's the coronavirus? The image below from World Health Organization highlights the symptoms.
---
25/2/2020